5 Reasons Why Pumpkin Is a Kitty Superfood
November 14, 2023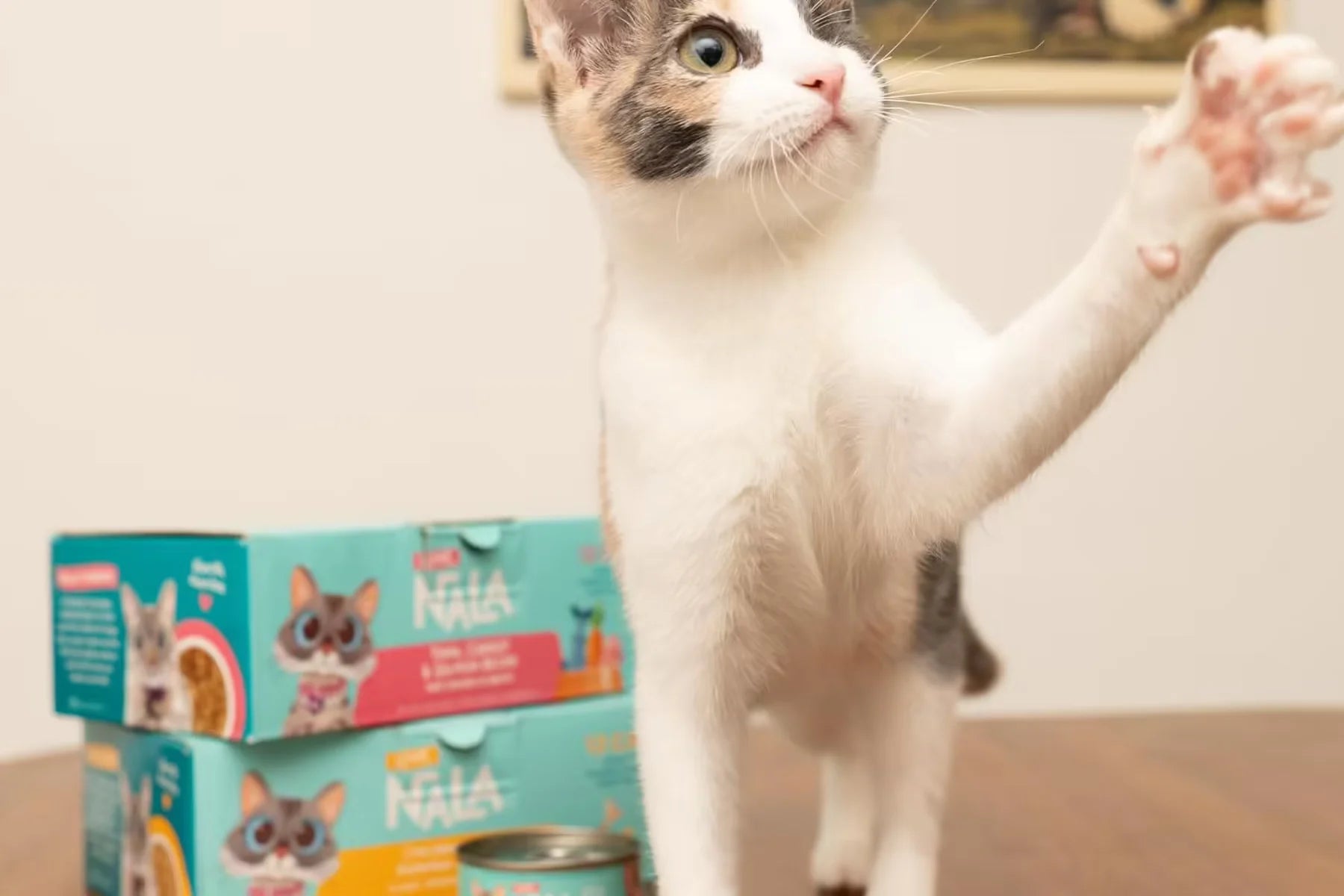 When it comes to feline nutrition, the quest for the perfect dietary components can be as complex as a cat's personality. Yet, sometimes, the simplest foods, those we often overlook, can be the most beneficial for our whiskered friends. Pumpkin for cats is one such gem that, despite its unassuming appearance, packs a powerful punch of health benefits. In this blog post, we will explore the numerous ways in which this nutrient-rich jug can contribute to your cat's health, from its digestive benefits of pumpkin for cats to how it can enhance their immune system with antioxidants in pumpkin for cats' immunity.
Digestive Health and Constipation Relief
Fiber is essential in any diet, human or feline, for maintaining proper digestive function. The digestive benefits of pumpkin for cats derive largely from its high dietary fiber content. Unlike many commercial cat foods that lack sufficient fiber, pumpkin provides a natural source that can help regulate your kitty's digestion. This fiber absorbs water and adds bulk to the digestive tract, which helps to keep the bowels moving smoothly. Regular bowel movements are crucial for the removal of toxins and waste from the body, and pumpkin's natural fiber content makes it an excellent choice for cats who may struggle with sluggish digestive systems.
Constipation in cats can be uncomfortable and may lead to more serious health issues if left untreated. Pumpkin for cats for constipation relief is a gentle and effective remedy. The water-soluble fiber in pumpkin helps to soften stools, which can provide relief for cats with constipation. Additionally, pumpkins can help in forming a more consistent stool for cats that suffer from episodes of diarrhea. It's a dual-action solution that can balance out irregularities in bowel movements, providing comfort and relief to your feline companion.
Beyond constipation relief, it can play a pivotal role in overall pumpkin for cats' gastrointestinal health. It serves as a prebiotic, promoting the growth of beneficial bacteria in the gut, which are vital for a healthy digestive ecosystem. By contributing to a balanced gut flora, pumpkin aids in the prevention of common gastrointestinal upsets and can enhance nutrient absorption, ensuring your cat gets the most out of their meals. It's a simple addition to your cat's diet that can bolster their digestive defenses against internal imbalances.
Introducing any new food into your cat's diet should be done with care to avoid any adverse effects. For safe incorporation of pumpkin, start with a small amount—about a teaspoon mixed into their regular food—and gradually increase if well-tolerated. It's important to use pure, unsweetened canned pumpkin or fresh, cooked pumpkin with no added spices or sugar, as these can be harmful to cats. Always consult with a veterinarian before making significant changes to your cat's diet, especially if your cat has pre-existing health conditions.
Weight Management for Overweight Cats
For cats that are overweight, finding a diet that satisfies without contributing to the problem is a challenge. Low-calorie pumpkin for overweight cats can be a part of the solution. This jug is low in calories but high in fiber, meaning it can help cats feel full without adding unnecessary weight. Including pumpkin in an overweight cat's diet can reduce the overall caloric intake while still delivering essential nutrients. This approach to satiety helps prevent overeating, a common issue in weight management and allows for a gradual and healthy weight reduction.
Incorporating pumpkins into a cat's weight management plan should be strategic. It's not just about reducing calories; it's about ensuring those calories are nutrient-dense. Pumpkin for cats is an excellent way to do this. Its rich nutritional profile supports overall health while contributing to weight loss. It should be part of a balanced diet, formulated with the guidance of a vet, that considers all the nutritional needs of an overweight cat. Combined with increased physical activity, pumpkin can contribute to a more active metabolism, which is crucial for shedding excess weight.
Portion control is critical when using pumpkins for weight management. Even though it's low in calories, the key is to ensure that it complements the diet rather than adding to the total calorie count excessively. A spoonful of pumpkin mixed with regular cat food is typically enough to provide the benefits without the risk of calorie overload. The frequency of pumpkin feeding should also be considered; once a day is often sufficient, and it should replace a portion of their regular meal rather than being an additional treat to avoid undermining the calorie control efforts.
Monitoring your cat's weight is an essential part of a weight management plan that includes pumpkins. Regular weigh-ins will help you determine if the dietary changes are effective or if adjustments are needed. Observing your cat's behavior and energy levels can also provide insights into how well the diet is working. It's important to note that weight loss in cats should be gradual; rapid weight loss can be dangerous and lead to other health problems. Regular consultations with a veterinarian can ensure that weight loss is occurring at a safe and healthy rate.
Immune Support and Antioxidant Benefits
A cat's immune system requires a variety of nutrients to function optimally, and pumpkin is a veritable treasure trove of these. Vitamin-rich pumpkin for cats' diet provides vitamins A, C, and E, which are all known for their antioxidant properties. Antioxidants combat oxidative stress in your cat's body, which can lead to chronic diseases and age-related health issues. They work by neutralizing free radicals, the unstable molecules that can damage cells. With its rich supply of antioxidants, pumpkin supports the body's natural defense system, keeping your cat healthier for longer.
The immune system is the body's primary defense against infections, and strengthening it is crucial for your cat's overall well-being. The antioxidants in pumpkin for cats' immunity play a significant role in bolstering this defense network. The beta-carotene in pumpkin, in particular, is converted into vitamin A in the body, which is essential for maintaining the integrity of skin and mucosal cells, serving as the first line of defense against pathogens. Regular inclusion of pumpkin in your cat's diet can thus help in building a robust immune system capable of warding off infections.
Inflammation is the body's natural response to infection or injury, but chronic inflammation can contribute to numerous diseases. Pumpkin's nutrient profile includes anti-inflammatory compounds that can help reduce the risk of such conditions. With its natural anti-inflammatory properties, pumpkin aids in soothing the body's inflammatory responses, which not only supports immunity but also promotes overall health. Cats suffering from conditions like arthritis can particularly benefit from these properties, as the anti-inflammatory effects can alleviate joint pain and improve mobility.
To harness the immune support benefits of pumpkin, it is important to feed it to your cat in the right amounts and frequency. A small amount of pumpkin—around one to four teaspoons, depending on the size of your cat—is enough to provide these health benefits without causing digestive upset. This can be given several times a week as part of a balanced diet. Always tailor the portion size and frequency to your cat's specific needs and consult with a veterinarian to ensure that it complements their individual health requirements.
Skin and Coat Health Enhancements
The benefits of pumpkin for a cat's health are not limited to the flesh of the fruit alone; the seeds are just as valuable. Fatty acids in pumpkin seeds for cats offer a spectrum of skin and coat benefits. These seeds are a natural source of omega-3 and omega-6 fatty acids, which are crucial for maintaining healthy skin and a glossy coat. These essential fatty acids cannot be produced by the cat's body and must be obtained through diet. Regularly incorporating ground pumpkin seeds into your cat's meals can help alleviate dry skin, reduce flakiness, and enhance the overall luster of their coat.
A shiny coat is often an indicator of good health. Pumpkin seeds' benefits for cat skin go beyond just the superficial aspects of appearance. These seeds contain zinc, which plays a vital role in skin health, supporting the growth and repair of skin cells. Additionally, the anti-inflammatory properties of fatty acids help in soothing skin irritations and inflammations. With consistent dietary inclusion of pumpkin seeds, you may notice an improvement in the shine and texture of your cat's coat, reflecting the internal health benefits they are receiving.
When preparing pumpkin seeds for feline consumption, it's important to ensure they are safe and easily digestible. The seeds should be cleaned, unsalted, and roasted at a low temperature to preserve their beneficial oils. Grinding the seeds into a fine powder is often recommended to aid in digestion and prevent choking hazards. This powder can then be sprinkled over your cat's regular food. It's a simple process that can generate significant improvements in your cat's skin and coat health over time.
As a pet owner, tracking the impact of adding pumpkin seeds to your cat's diet can be rewarding. Positive changes in skin and coat health may manifest as a reduction in dandruff, less itching and skin irritation, and a more vibrant coat. These changes can take time to become evident, as the benefits of improved nutrition accumulate in the body. Observing your cat's skin and coat over several weeks or months will allow you to identify these improvements and adjust their diet accordingly for sustained health benefits.
Hydration and Pumpkin's Moisture Content
Hydration is a critical but often overlooked component of feline health. Cats are notorious for their low thirst drive, which can lead to insufficient water intake and associated health issues. Adequate hydration is essential for various bodily functions, including kidney function and waste elimination. The hydration benefits of pumpkin for cats come into play here, as the high moisture content of pumpkin can contribute to the overall water intake, supporting these vital functions and helping to prevent urinary and kidney problems, which are common in cats.
Pumpkin's natural moisture content makes it an excellent aid in increasing your cat's water intake. Unlike dry kibble, which offers very little in terms of hydration, pumpkin for cats can provide additional water content to their diet. This is especially beneficial for cats who are reluctant to drink sufficient amounts of water throughout the day. The incorporation of pumpkin not only provides the nutritional benefits we've discussed but also plays a part in maintaining adequate hydration levels, which is essential for overall health.
To further encourage water intake, pumpkin can be mixed with water to create a pumpkin 'soup' that can entice cats to consume more fluids. This can be particularly appealing to cats, offering a different texture and taste compared to their regular water bowl. It's a creative way to enhance hydration while still providing the nutrient-rich pumpkin for cats. This method can be especially useful for cats recovering from illness or surgery, who may be less inclined to drink water, as the flavored water can stimulate their appetite for fluids.
Recognizing the signs of improved hydration in your cat can help you understand the effectiveness of including pumpkin in their diet. Signs of proper hydration include moist gums, more elastic skin, and more frequent use of the litter box for urination. An increase in energy levels and a decrease in constipation incidents can also indicate that your cat is better hydrated. Monitoring these signs after introducing pumpkin to your cat's diet can provide insight into the positive changes that proper hydration brings.
By embracing the full spectrum of pumpkin's benefits, from the digestive benefits of pumpkin for cats to the hydration benefits of pumpkin for cats, you're not just feeding your cat; you're nourishing them. As we've seen, whether it's helping to alleviate pumpkin for cats for constipation relief, bolstering their body against illness with antioxidants in pumpkin for cats' immunity, or ensuring they maintain a sleek, glossy coat with fatty acids in pumpkin seeds for cats, this humble gourd supports your cat's well-being in profound ways.
Feeding your cat pumpkin can be a simple yet powerful step toward optimal health, offering a bounty of benefits that can enrich their lives. So next time you're at the grocery store, remember that a can of pure pumpkin could be the key to unlocking a vibrant life for your beloved pet. With the power of pumpkin, each purr and playful leap can be a testament to the strength of superfood nutrition in maintaining the vitality and vigor of your feline friend.